Tuesday, August 4, 2020, a large blast destroyed much of the port of Beruit, Lebanon, killing over a hundred people and leaving 300,000 people homeless. The humanitarian crisis arising from this explosion was worsened by the Lebanese government. In response to protests and demonstrations by Lebanese citizens, the Lebanese cabinet quickly resigned.
The Canadian government is pledging assistance to the Lebanese people via Canadian non-profit governmental organizations (NGOs) including the Canadian Lutheran World Relief organization (CLWR).
Below are links taken from the ELCIC website, the CLWR website, and other websites holding information about this issue. A news feed on the right side of this page is updated on a continuous basis with the latest news, delivered here via Google News.
---
(August 16, 2020)
Lebanon launches Beirut investigation as it awaits verdict over former PM killing
As quest for answers over massive port blast begins, a tribunal is expected announce findings on death of Rafik Hariri (From The Guardian)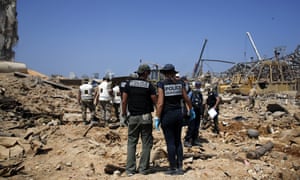 A military judge in Beirut will, on 17 August, start examining a report into the cataclysmic explosion that levelled parts of the city 12 days ago, and determine who might face charges. A day later, five thousand miles away in The Hague, an international tribunal is due to hand down a verdict into a blast that took place 15 years earlier, killing the country's former prime minister Rafik Hariri and unleashing a generation of havoc, from which it is yet to recover.
---
(August 11, 2020)
Dear Rev., I am sure you are just as shaken as I am by the images and news reports coming from Beirut — they are truly shocking and the situation is urgent.
Up to 300,000 people — including 100,000 children — have lost their homes. Hospitals, which were already struggling with to cope with COVID-19, are overwhelmed by this disaster, and much of the country's food supply has been completely destroyed. The latest reports estimate that at least half a million people are in urgent need of aid.
Together, we have an opportunity to make a difference in the lives of those who are suffering. Last night, after seeing the overwhelming show of compassion from Canadians, the Government of Canada announced a generous increase to their Lebanon Matching Fund, bringing the total up to $5 million.
That means every dollar donated by individuals before August 24 to Canadian Lutheran World Relief or other members of the Humanitarian Coalition, will be doubled.
The response from Lutherans across Canada has already been rapid and humbling. To the many hundreds of you who have already responded, thank you so much. My colleagues at Canadian Lutheran World Relief's head office have been busy taking donations over the phone and online, and they are working hard to ensure your support reaches our partners on the ground as soon as possible. But there is still much urgent work to be done.
If you have not yet had a chance to respond to our appeal, then please take a moment now to double your impact through this incredible matching fund and give whatever you can to help the people of Lebanon who are facing this crisis.
You can make a donation online at clwr.org/lebanoncrisis.
Donations can also be made by phoning our office at 1-800-661-2597 (Monday to Thursday, 9:00 a.m. – 4:00 p.m. CDT), or by mailing a cheque to 600-177 Lombard Avenue, Winnipeg, MB R3B 0W5
Thank you for responding with compassion during this emergency — your gift will allow our partners to provide emergency shelter, food and supplies, as well as trauma care to people in need. Many blessings and stay safe,
Karin Achtelstetter
Executive Director Canadian Lutheran World Relief
P.S. In response to the government's guidance on COVID-19, we have made the difficult decision to limit our office capacity and have asked most of our staff to work from home until further notice. This will affect our ability to respond to donations and enquiries. If you are able to make your donation online, it will greatly help to reduce our administration. We apologize for any inconvenience this may cause and thank you for your understanding and patience during this time.
(August 8, 2020)
ELCIC members encouraged to respond with prayers, financial support following devastation in Lebanon; donations made before August 24 will be matched
(August 4, 2020)
Blasts Rock Beirut, Killing Dozens and Wounding Thousands
The cause remained unclear hours later. But officials in the Lebanese capital said 2,750 tons of highly explosive ammonium nitrate had been stored in a depot at the center of the explosion.