Reminder: Both Bible Study and Book Group take a break during the months of July and August.
Bible Study:
Wednesdays at Redeemer from 1:30-3pm. All welcome!
Book Group:
Book Study Group at Redeemer on Thursdays at 1:30pm is exploring church fathers and mothers (both ancient and more recent) who have written in the Christian mystical tradition, including Origen, Gregory of Nyssa, Augustine, Francis of Assisi, Julian of Norwich, Ignatius of Loyola, Teresa of Avila, and Thomas Merton. We have read passages from scripture that have influenced these great thinkers in our faith.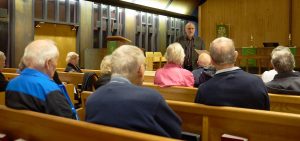 In the past we have also presented lectures, workshops, and other programs. Most recently, Pastor Cliff Reinhardt, from Spirit of Life, lead a book study on Radical Lutherans: Lutheran Radicals. We have hosted an evening lecture series with Rev. Dr. Harry Maier, entitled "Four Gospels, Many Resurrections", in which we explored the varying accounts of Easter found in the four Gospels and reflected on the question, "what does it mean to confess that Jesus is not dead but alive? Other lecture series have included themes such as "How Is the Bible True?" and "Where Is God When Things Go Wrong?" as well as a DVD Great Courses Series, "The Great Figures of the New Testament" with  Professor Amy-Jill Levine .  We have also sponsored a workshop for parents and grandparents on "Growing up with God."